SAINT-GENES-DE-CASTILLON
This hilly course of 17 kilometers crosses the vineyards of the Castillon - Côtes de Bordeaux appellation. Over hills and dales, in 1h45, discover pretty wine-growing viewpoints over the towns of Saint-Genès-de-Castillon, Belvès-de-Castillon, Gardegan-et-Tourtirac and Saint-Philippe-d'Aiguille.
Your itinerary
1
Departure from the circuit
Leave the car park next to the restaurant and go to the right, in the direction of Castillon.
2
Step 2
Turn right towards Sainte-Colombe.
3
Step 3
At the exit of St-Genès, continue straight ahead following the direction town hall-school.
4
Step 4
After the Ste-Colombe sign, turn left towards Le Rey - Branque.
5
Step 5
At the next intersection, turn right towards Branque. Go down then go straight up.
6
Step 6
At the give way at the top of the hill, turn left. Watch out for traffic.
7
Step 7
Leave the D17 after 200 meters and turn right towards Belvès.
8
Step 8
Cross the town of Belvès and continue towards Francs on the D119.
9
Step 9
Continue on the D119 towards Gardegan and Francs.
10
Step 10
After a long descent, go up past the golf course on your left.
11
Step 11
At the top of the hill, continue straight on the D119 towards Francs and leave Gardegan on the left.
12
Step 12
After the descent, the road goes to the left. Then go up, you will find access to the Côteau de Pey Landry on the left.
13
Step 13
At the crossroads at the top of the hill, turn left and follow Le Pin and Renier.
14
Step 14
Continue to climb the main road which branches off to the left.
15
Step 15
At the intersection at the top of the hill, take the main street on the left and keep going up
16
Step 16
Continue straight on the main road passing the water tower and the antenna on your right
17
Step 17
At the stop sign, be careful and take the D123 on the left towards St-Philippe-d'Aiguille.
18
Step 18
Cross the village of St-Philippe and continue straight past the church and the town hall.
19
Step 19
After the speed bump turn right towards Vernon, Le Sac.
20
Step 20
At Château Vernon, turn left.
21
Step 21
At the crow's feet, take the road to the right. Continue on this road until St-Genès.
22
Step 22
Continue straight until St-Genès.
23
Step 23
At the stop sign, cross carefully and join the car park.
Points of interest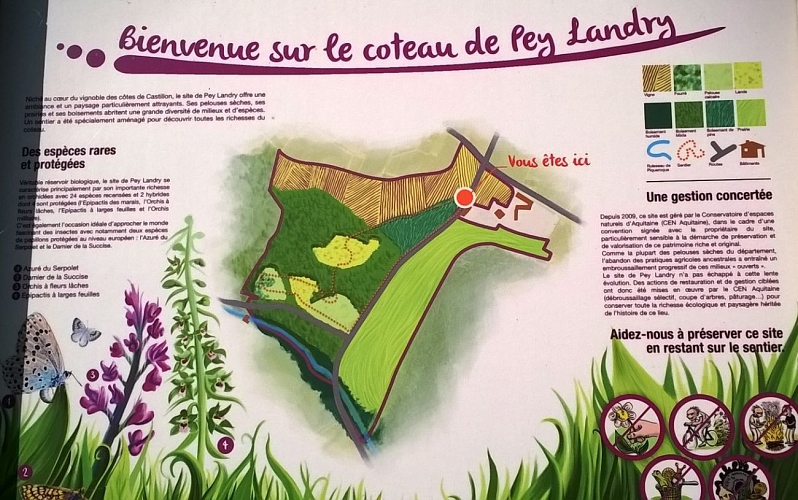 Hill of Pey Landry